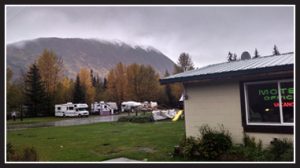 RV Park Rates
Nightly rates are $35 | No Weekly Rates.
Due to Winter Snow, the RV Park is CLOSED in the Winter.
Please NOTICE!!! For the RV Park, Nightly Reservations are NON-REFUNDABLE.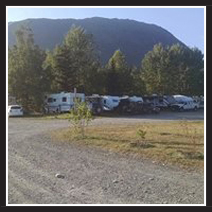 RV Park Information
Bird Creek RV Park has eight parking spaces where you can spend the night or week.
The spaces are located on the north side of our property, with willow trees lining the street for a more private setting.
We offer 20-amp power, Wi-Fi, and water to fill your RV's water tank. Make a reservation for your RV.
Our RV Park does not have a Dump, Laundry or Showers.
RV Park Reservations can be made by using the link below for available dates and cost.
Office Hours
4 P.M. ~ 11 P.M. or No Vacancy. We will accommodate late night or early morning check-in for reservations.
Please call during regular business hours of 9 A.M - 5 P.M. for making your reservations.
Cancellation Policy
All reservations can be canceled up to 14 days prior to the reservation date, and a $35 processing fee will be charged. For cancellations under the 14 days, we will refund any nights we're able to rebook and refund monies, minus the $35. processing fee. For multiple night reservations, we will refund as many nights as we're able to rebook minus 1-night stay. Per room booked per multiple nights. RV Park multiple night reservation cancellations will be applied, as stated above. RV Park single night reservations are NON REFUNDABLE.